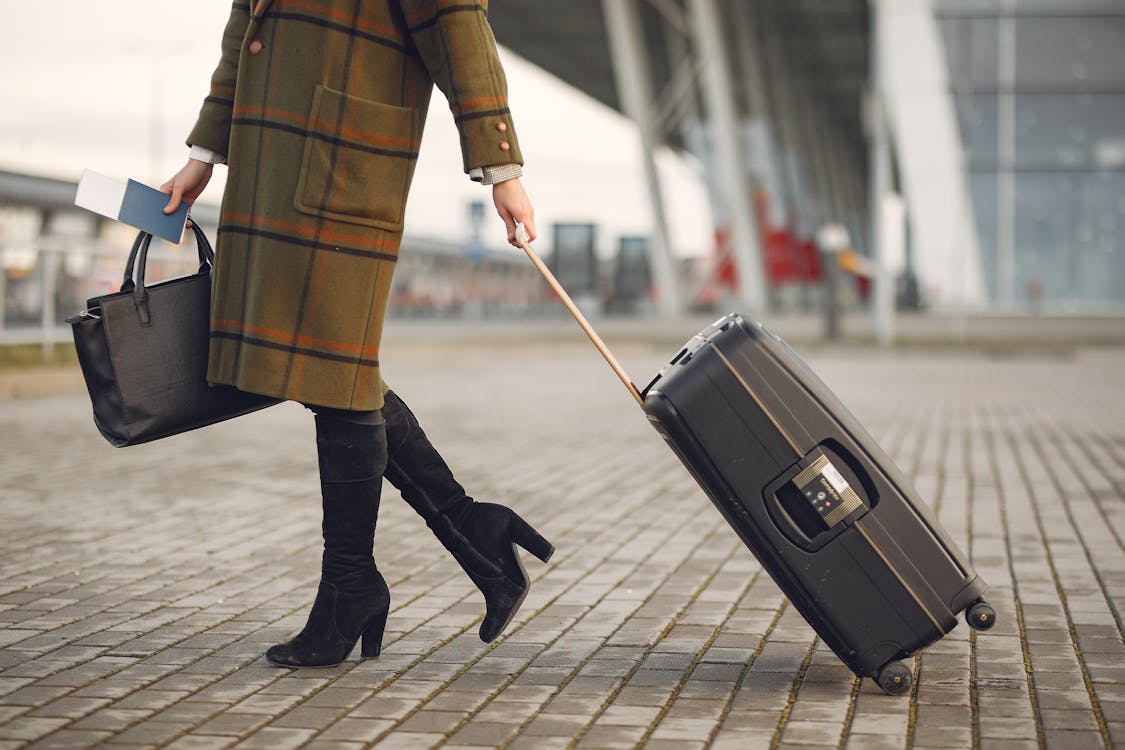 Photo by Gustavo Fring: https://www.pexels.com/photo/stylish-woman-with-suitcase-and-bag-walking-on-street-near-modern-airport-terminal-3885493/

Achieving success on your business trips requires efficient packing and smart choices. In this detailed guide, we'll explore the essential items and strategies for traveling light without compromising on comfort or style.
Whether you're a seasoned business traveler or just starting out, you're about to discover the secrets of stress-free and successful journeys. Keep reading, and don't miss our special product featuring in the Fall 20023 BREO BOX – your gateway to a more enjoyable travel experience. 
Streamlining your wardrobe 
Packing efficiently starts with your wardrobe. Versatility is key; choose classic pieces that can be mixed and matched. A well-tailored blazer, a crisp white shirt, and versatile slacks will form the foundation of your professional attire. By opting for neutral colors, you maximize outfit combinations, reducing the number of items you need to pack. 
Don't forget to consider the climate at your destination. Layering is an excellent strategy, allowing you to adapt to changing weather conditions. Versatile accessories, such as scarves or ties, can also transform your look without taking up much space.  
Photo by David Lezcano on Unsplash
Essential Tech Gadgets 
Technology plays a significant role in modern business travel. Your smartphone, laptop, chargers, and power banks are your digital lifelines. In the Fall BREO BOX, you'll discover an exciting addition - the RiddiaPress portable iron. Stick with us to learn how this innovative gadget can revolutionize your business travel experience. 
When it comes to your gadgets, consider the multi-functionality of your devices. A smartphone with a high-quality camera can serve as both your phone and camera. Invest in a universal charger to minimize the number of cords you need to carry. And yes, don't forget about the RiddiaPress portable iron, a compact game-changer that keeps your clothes wrinkle-free. 
Read also: Remote work unleashed: How to work smarter, not harder 
Staying Organized 
Organization is the key to a smooth journey. Toiletry bags, passport holders, and travel wallets are essential for keeping your essentials within easy reach. You don't want to be frantically searching for your passport at the airport. 
When choosing your travel accessories, opt for those with multiple pockets and compartments. A toiletry bag with separate compartments for toiletries and grooming essentials can keep things tidy. Passport holders with RFID-blocking technology add an extra layer of security to protect your personal information. 
Comfortable and Stylish Footwear 
Comfortable shoes are vital for a traveler. Invest in stylish yet comfortable footwear that can handle long walks and formal meetings. You should be able to look professional without sacrificing comfort. 
Choose your shoes wisely; they should be versatile enough to go from a business meeting to a casual dinner seamlessly. Look for styles that match various outfits, saving you the trouble of packing multiple pairs of shoes. Additionally, consider the weight of your shoes, as bulky footwear can add unnecessary weight to your luggage. 
Photo by Jason Briscoe on Unsplash
Prioritizing Health and Wellness 
Your well-being should always be a priority during travel. Vitamins, medications, and a reusable water bottle are must-pack items. Staying hydrated and healthy is essential for a successful business trip. 
Preparation is key for maintaining your health on the road. Ensure you have a sufficient supply of any prescription medications you need. A reusable water bottle not only reduces your environmental impact but also ensures you have access to water at all times, whether you're stuck in a long meeting or navigating airport terminals.  
Packing Like a Pro 
Efficient packing is an art form. Utilize the roll-packing method to save space and minimize wrinkles. Packing cubes are your best friend for keeping your items organized. 
Consider your packing strategy. Roll your clothing items tightly to prevent creases and optimize space in your luggage. Packing cubes help categorize your clothes, accessories, and toiletries, allowing you to find what you need without creating chaos in your bag. 
Read also: Effortless travel: Packing tips for wrinkle-free clothing 
Travel-Size Toiletries 
Streamline your packing by using travel-sized toiletries. Ensure you have containers that meet airport regulations to breeze through security checks. 
Travel-sized toiletries are not only convenient but also help you stay within airport security regulations. Opt for refillable travel containers for your shampoo, conditioner, and other liquids. In addition to saving space, they reduce the weight of your luggage. 
Photo by Timur Weber: https://www.pexels.com/photo/black-headphones-beside-bag-with-toiletries-9185824/
Staying Entertained 
Downtime during travel can be more enjoyable with the right entertainment. Don't forget to pack your favorite book, e-reader, or noise-canceling headphones to make long flights and layovers more pleasant. 
Entertainment keeps you engaged during downtime. Whether you prefer a good book, e-reader, or the immersive experience of noise-canceling headphones, having the right entertainment can make even the longest journeys more enjoyable. So, don't leave home without your preferred source of entertainment. 
A Well-Stocked First Aid Kit 
Being prepared is crucial. A well-stocked first aid kit containing band-aids, pain relievers, and any personal medications is your safety net during unexpected situations.  
Safety should always be a top concern. A well-rounded first aid kit with essentials like band-aids, pain relievers, and any necessary prescription medications ensures you're ready to handle unexpected health issues or minor injuries during your trip. 
Elevating Your Travel Game with RiddiaPress 
Now, let's focus on a game-changing addition to your business travel essentials – the RiddiaPress portable iron from the Fall 2023 BREO BOX. This compact iron is designed to seamlessly fit into your luggage, ensuring your clothing remains wrinkle-free. Say goodbye to relying on hotel irons or worrying about your presentation during important meetings. With this innovative iron, you can be sure your attire always looks sharp and professional, whether you're at a conference, meeting, or dinner with clients.  
Equipped with these indispensable business travel essentials and savvy packing techniques, you're primed for triumph on your upcoming journey. Keep in mind the art of traveling light while preserving your distinctive style. 
Don't miss this fantastic addition to your travel essentials. Secure your Fall 2023 BREO BOX today and experience the joy of packing light while ensuring you're always ready for success on your business trips. Invest in quality and convenience – your journey deserves it.